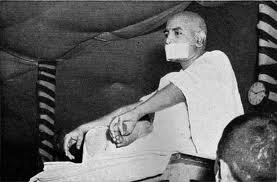 The Jains are an old Indian religion. they have contributed glorious temple architecture to the Indian cultural heritage. today the temples remain, but the jains are only counting four million faithfuls. this might have to do with various schisms and their radical religious views that have quite an impact on their members' lifes.
like others they do believe in every living thing having a soul, but they take it as far as wearing masks in order to avoid unwillingly breathing in and thereby killing insects. also some of them tend to use a very light broom to clean the path ahead of them to avoid accidentally stepping on an insect. it is just another logical step for the more fundamental believers to advise against physical movement in general – you never know what you will be triggering with a simple physical movement! a wise man said, that most problems of humanity could be avoided alltogether if people could simply stay in their rooms and sit still on their chair. forever that is, if you are a true jain believer. 
another thing that did not really help spreading the jains creed might be that one of their schismatic groups, calling themselves 'the-ones-dressed-in-air' do additionally not believe in clothing of any kind. however their temples, they look just like a magnificent architectural fantasy dedlicately carved from stone.
more interaction (e.g. movement) we experienced at some hindu temples in the last week. outside of jaipur we visited an ancient temple dedicated to hanuman. hanuman, a god with a monkey face and a very good friend of the even more powerful godess shiva (as the local priest told us) is worshipped at this temple by humans as well as by monkeys who live in and around the temple. part of the rite that Hindu worshippers perform is to bring food, which is subsequently eaten by the monkeys. and as the monkeys lack any form of formal manners and behavior,  it is quite a fight for the food as soon as the worshippers enter the temples grounds – this kind of service is by far more lively and entertaining than your usual jewish, christian or mainstream muslim services i have to say.(go and see for yourself, pictures at stephans blog nikoundstephan.wordpress.com)
we did see a lot more temples of different denominations, for different gods and goddesses (as the hindus seem to have a never ending amount of godly personell!), but i am not getting into even greater length here. besides all the temples we also got to see quite a share of rajasthan's maharadja palaces and fortresses. some of them in great despair,  some very well maintained and some even inhabited by some sort of royal families. the palaces are a fantastic array of ornament and architecturally demonstrated strength.
in jaipur our visit coincided with the celebration of the maharani's 70th birthday. the city was festive and decorated with posters congratulating her to the accomplishment of 70 years and often also mentioned that her year of birth was 1937 – an indian bargaining style miracle of numbers.
in jodhpur the royal family left their incredibly impressive castle on the rock above the town a hundred years ago and moved to a megalomanic art deco palace outside the city. the current maharadja had the castle restored and opened a museum in which his voice is featured prominently on the audio guide. the same guide also frequently mentions the beloved maharadjas philanthropist streak. this is truely astounding, because the delicate and renovated castle on the rock forms a harsh contrast with a rather dirty and poor looking city at the foot of the rock, a city that features at least in some parts still an open sewer system. this is not so astounding in india, but it definitely does not shine a great light on the local maharadjas great governance (in the past some-hundred-years) and their present benevolent spreading of their wealth.