our indian visit started in amritsar a while ago. amritsar is a place where in 1919 on jallianwhala bagh a massaker took place. british troops fired on unarmed people who were taking part in a political ralley. within a very short span of time they shot more than 400 people. the fact that general dyer, who was responsible for this incident acted cold blooded and purposeful makes it more memorable up to this day. also the massaker takes an important place in indian history, because it started the independence movement with renewed force.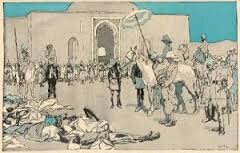 today the historical crime scene is like it used to be at the moment of the massaker, an inner city square and park. it is fitted with an eternal flame (that comes with a rather large sponsoring logo of indian oil) some inscriptions and a little gallery in memory of some of the victims biographies. the biggest part of the square is still just a lawn. people visit for commemorative reasons and also for lunch break. they  come to sit on the lawn, to eat, talk and rest.
before they step on the lawn they take off their shoes and while they are chatting with each other and seem to be completely uninhibited, they still maintain a calm which i never experienced in any other indian city square.
earlier this year back in austria when we worked on the new exhibition for the mauthausen memorial site a dear friend suggested, to get rid of all the nazi time buildings and structures that populate this area and instead just have a meadow, where people can sit an commemorate if they feel like doing so. this, of course was not happening.
while back in austria i was taking this suggestion for a provocative conversational input, in amritsar it is implemented and it seems to work for the people. if you know how loud, and crowded and chaotic indian urban spaces are, it is interesting, that seemingly by itself the memorial site of amritsar seems to function.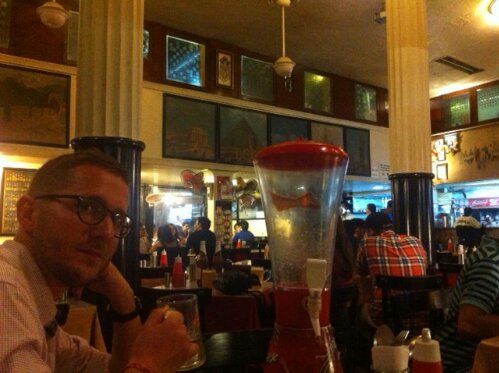 some weeks later, at the end of our time in india we came to bombay. massive security in official and otherwise busy buildings reminds us of the terrorist attacks in 2008 which targeted the jewish community, two upscale hotels and a popular inner city coffee place. the coffee place, leopolds cafe, is still there and a favorite tourist hang out. in a window to the street and on the walls inside the place one can still see the holes which are the remnants of the terrorists shooting with automatic rifles. several people died that day in leopolds cafe. a lot more in the other crime scenes.
the commemorative response was not to put up memorial plaques but just to leave the holes which are visible to visitors who now where they originate from. compared to the western memrial culture which is showing itself for example at new yorks ground zero this is a very different approach: by far less educational in any case but at the same time these indian spots of commemoration seem to be included very deeply into everyday life, which is somehow a good thing, i think.